um grande disco de world jazz, um manifesto político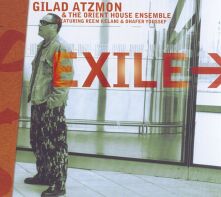 Gilad Atzmon & the Orient House Ensemble - EXILE-
(enja records, 2003)
Raised as a secular Israeli Jew in Jerusalem
,
Gilad Atzmon witnessed the daily sufferings of Palestinians and spent 20 years trying to resolve for himself the tensions of his background. Finally disillusioned, he moved away from Israel and went to England to study philosophy.
Yet when he met
Asaf Sirkis
, a drummer from his homeland, Atzmon recovered an interest in playing the
music of the Middle East, North Africa and Eastern Europe
that had been in the back of his mind for years. He founded the
Orient House Ensemble
in London and started re-defining his own roots in the light of political reality. He now regards himself as a devoted political artist
On his new album, "
Exile
," he and his colleagues (featuring the moving voices of
Reem Kelani
and
Dhafer Youssef
) try to tell the story of Palestine, a country that was stormed by radical Zionists in the 20th century. Asking himself how the Jewish people – who themselves have suffered so much for so long – can inflict so much pain on the Other,
Atzmon takes up Israeli traditional and nationalistic melodies and turns them around deliberately
. For instance,
"Al-Quds"
is an Arabic interpretation of an Israeli tune that became the anthem of the '67 War. A cross cultural statement with a political twist.

JAZZ ALBUM OF THE YEAR (BBC Music Awards, Juli 2003)
fonte:
enja
This album is made by musicians who live in exile. For some of us it is a deliberate choice, others are unwelcome in their home land. (....)
(...)

A few of the tunes on the album are built over the ruins of Jewish traditional songs and Isreali nationalistc melodies

(...) - Al-Quds, Ouz, Jenin.
The decision to make use of Jewish and Israeli tunes was very deliberate. Jewish history is an endless story of persecution, agony and anguish. Zionism draws it´s force from the vivid fantasy of return.

I would like to raise two simples questions: How is it that people who have suffered so much and for so long can inflict so much pain on the Other? How can Zionists, who are motivated by a genuine desire to return be so blind when it comes to the very similar Palestinian desire?





This album is a call for attention to the palestinian suffering. It is a prayer fot the world to acknowledgethe Palestinian essential right of return.